My followers know that I advise investors to build and maintain a well-diversified portfolio built for the long term and to stay invested in the market through good times and bad in order to achieve the long term. returns that the market is ready to grant them. My previous Seeking Alpha articles on top-down portfolio management explained how to allocate capital between different "compartments". These compartments can include broad market funds, technology, dividend stocks, energy companies, sector ETFs, speculative growth opportunities and precious metals, to name a few. Each investor designs their own buckets based on their specific life situation (age, income, retirement, goals, risk tolerance, etc.).
An often overlooked bucket is "cash". Cash has a number of important purposes – including meeting day-to-day and large expenses, emotional security, emergency backup, to avoid having to sell other assets at low prices, and to take advantage of market opportunities as they arise. It is of the latter that I will speak today.
As you all know, the market has been through a pretty brutal sell-off: some of the general market averages have fallen significantly since the start of this year: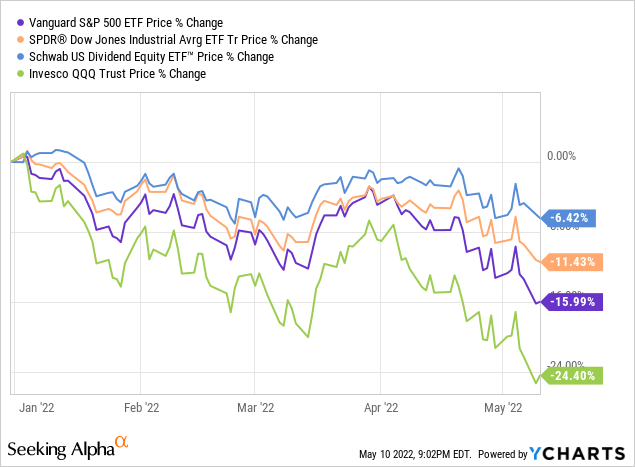 As can be seen in the graph above, the technology sector as represented by the Nasdaq-100 (QQQ) The ETF has been particularly hard hit as many tech growth stocks have been repriced by the market as interest rates have risen and investors are no longer willing to pay large premiums for cash flows. future cash flow: they want cash flow and dividends (or "value") available now.
Given the current macro environment, it's no surprise that the Schwab Dividend ETF is the best performing fund of the select group, as investors prioritize dividend-paying income (see Seeking Alpha post Investors flood ETFs with dividends for safety). Out of the group, ETF DJIA holds a solid second place and was led by Chevron (CVX), the best performing DJIA since the start of the year (+34%).
Of course, despite the massive sell-off, stocks could certainly drop further. There are many macro-environmental threats hanging over the market and uncertainty abounds: inflation is high, oil and gas prices are high, the Fed is hawkish and will likely raise the fed funds rate by 0.50% when of the next two meetings, Covid-19 lockdowns in China are threatening global growth and supply chains, and Putin's horrific war of choice in Ukraine has shattered both global energy and food supply chains.
That said, the S&P500 is ~16% cheaper today than it was at the start of the year, so how many of these headwinds have already entered the market? Frankly? I have no idea. However, on Monday of this week, I started investing some more money in what I call the "4 Horseman" funds which make up the bulk of my offshore portfolio allocation. These include:
The Vanguard S&P 500 ETF (VOO)
DJIA SPDR ETF (DIA)
Schwab US Dividend Equity Trust ETF (SCHD)
The Invesco Nasdaq-100 ETFs (QQQ)
Now, of the four funds above, I have a much larger allocation to VOO compared to the others and that percentage decreases as you scroll down the list. On Monday, I put about 5% of the money I plan to put on the market into these four funds – and in line with my current allocation percentage (i.e. much more into VOO compared to triple Qs).
However, don't get the impression that I'm not optimistic about the potential of the tech sector – I'm definitely a long-term bull on tech. It's just that I have several other direct tech holdings – Google (GOOG), Amazon (AMZN), and Broadcom (AVGO) and significant exposure to semiconductors and software through the VanEck Semiconductor ETF (SMH) and the iShares Expanded Tech & Software ETFs (IGV), respectively, both of which have taken a real hit lately. And while the tech sector is the most down, and you could argue I should have added more to tech versus the S&P500, the sentiment is currently so terribly bad in the tech sector that I expect my time before adding to my existing positions. However, you can be sure that I will also be adding more to my tech holdings.
The dead cat bounces
Sure, I could be ahead – and I probably am. But as the bullet points at the top of the article said, "timing is everything, but you can't time the market." This certainly applies to me. As a case study, note that in the "Crisis of 2000" chart below, there were two significant dead cat bounces (very sharp market rallies in a bear market) before the bottom much bottom was finally reached in early 2003 and after which the market reached a new high before the financial crisis of 2008: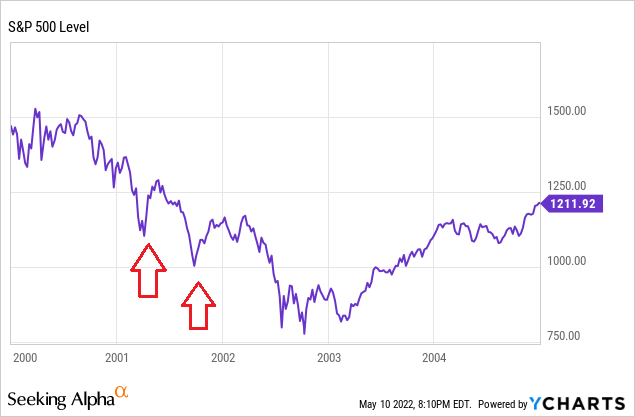 I have a few friends who misinterpreted these two fake dead cat bouncing heads, went back into the market heavily and – naturally – then got badly burned and in exasperation sold the market completely near the 2002 low. took many years to come back on the market after being bitten so badly. In fact, one of them completely missed the biggest bull market of his life.
And that's why I only put 5% of my cash to work on Monday. I'm in no hurry… and I'm biding my time. I don't want to go all-in with my money too soon. But I also want to keep my portfolio's overall allocation percentages where I've set them – or at least gradually move in that direction.
In the meantime, I'm pretty happy with how my portfolio held up during the sale. Significant exposure to energy companies and sector ETFs like consumer staples (and cash) helped me stay ahead of the broader market during the recession. This is partly due to some iBonds I purchased many years ago that are now yielding 9%+. There's beauty in simplicity – and it doesn't get any better than the beauty of compound interest.
Energy
However, energy – the biggest source of my dividend income – has again become my second position after the S&P500. It makes me nervous. Remember that before covid-19, the energy sector was the worst performing sector (by far) in the previous decade. Today, the energy sector is full of free cash flow and dividends are flowing. That's great…but note that many of these companies, now that their stocks have doubled and tripled from their lows, are re-initiating their stock buyback programs again. Given the amount of shareholder capital that has been destroyed over the past decade with energy company stock buybacks, this worries me as well.
Note that energy companies have long suspended stock buybacks during the down cycle (when their stocks are really cheap and need to be bought) and over-emphasize buybacks during the up cycle when their stocks are expensive and probably shouldn't be. bought. For years I couldn't understand why the CEOs of energy companies don't just pay down their debt so that during down cycles they can afford to spend what would otherwise have been wasted in interest charges to pay off their considerable debt. to buy back shares when they actually represent incredible value. But what do I know… I'm not the CEO of an energy company. So I look like companies like Conoco Phillips (COP) and Exxon (XOM) are increasing their stock buybacks now that their stock prices have more than doubled from their lows.
Summary and conclusion
For the typical mainstream investor, building and maintaining a well-diversified portfolio built for the long term and staying in the market until the end is the best way to go. Indeed, research shows that most ordinary investors are terrible market timers and would be far better off just investing in the S&P500 and forgetting about it. Indeed, a solid S&P500 fund (like VOO) not only outperforms most ordinary investors, but also 80% of active professional fund managers. This is the main reason why VOO is my biggest overall position.
That being the case, I am taking advantage of the recent market sell-off to add, very slowly, to my broad market funds in order to maintain the overall targeted allocation levels of my portfolio. While some investors get frustrated at sell-offs and stop doing their due diligence, I suggest they do the exact opposite: take the time this weekend to review your portfolio, your allocation targets, and your goals. Build a "buy list" (or a "sell list") and plan your moves if market volatility presents you with opportunities that are too good to pass up.
I'll end with a long-term chart of the S&P500. This graph indicates two seemingly opposite things at the same time:
The need for investors to stay in the S&P500 for the long term and
The fact that there could be (significantly) further downside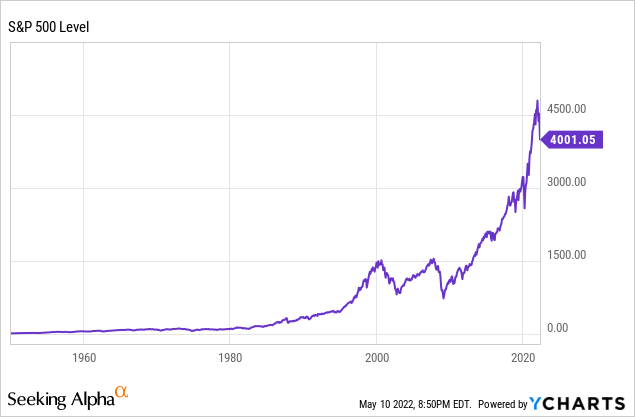 Thanks for reading and I wish you success!